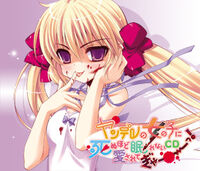 Yandere no Onna no ko ni Shinu hodo Aisarete Nemurenai CD 2 (ヤンデレの女の子に死ぬほど愛されて眠れない) lit. Yandere girls love me to death so much that I can't sleep CD 2 is the second CD of the Drama CDs of the Yandere no Onna no ko saga. It was released on June 25, 2008.
External Links
Edit
Ad blocker interference detected!
Wikia is a free-to-use site that makes money from advertising. We have a modified experience for viewers using ad blockers

Wikia is not accessible if you've made further modifications. Remove the custom ad blocker rule(s) and the page will load as expected.